Job-Training 'Tantra Masseur' (certified)
Meet Armin and former participants, inviting to the Palm Springs training
Touch and Massage - Make your Dream come true...
If you have always been interested in massage, or you have often played with the idea of pursuing an activity that you love on an independent and self-employed basis, or you would like to re-experience the massages and group togetherness, then this training could be something for you.
Find in this training description:
> The Topic & Participants
> Training Objective & Qualification
> Course & Contents (Segments 1 to 5)
> Preparatory & Accompanying Media
> Venue, Schedule & Accommodation/Meals
> Participation Fee & Booking
Topic
The origins of Tantra go back to the second century A.D., Tantra massage to the 1990s. Since the release of the GAY-TANTRA Massage DVDs by Armin Heining in 2010 at the latest, Tantra massage has become widely known within the gay community in Germany and Europe. The described Tantra-Massage Training, developed by GAY-TANTRA and proven in pratice, is unique in Europe. It is a non plus ultra in terms of the art of massage and the culture of body contact.
Participants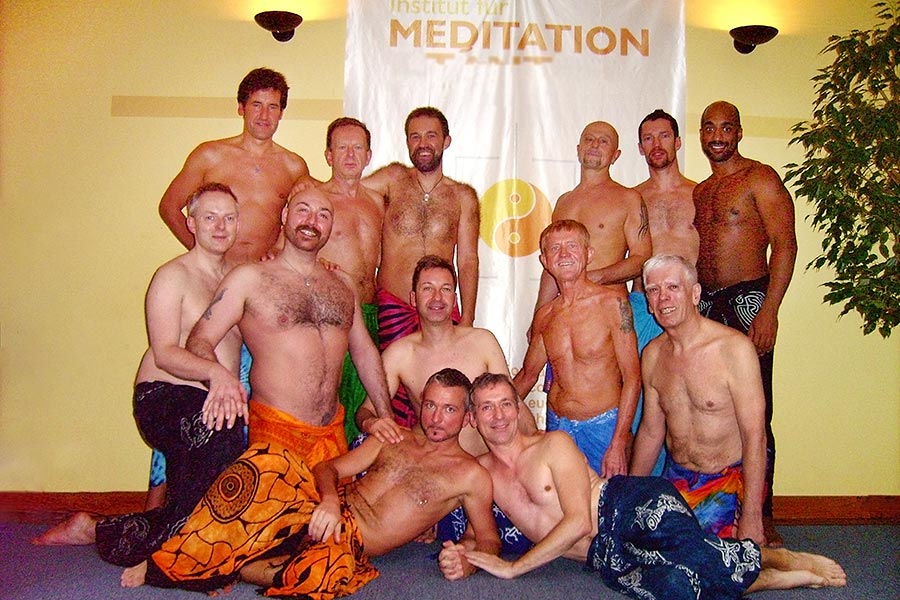 Not only professional masseurs, but also interested non-professionals can profit greatly from this training. They can enhance their knowledge of Tantra massage and gain inspiration from the erotic energy generated.
You can visit the training for professional further education, or also private interest, for example together with your partner. In combination with a basic medical education (for example pool supervisor, masseur, alternative practitioner, doctor), or a registered business (for example wellness specialist, sex worker), the 'Tantra Masseur' is authorized to offer the learned massages for money.
Training Objective
After completion of this training, participants are able to perform two different tantric massages by themselves, including an elaborate genital and anal massage. And they know various ways of professionally enabling the energy climax to happen. From the government of Berlin this training was examined. It was noticed that this training prepares for a regular profession.
Training Qualification
After a successfully conducted written, oral and practical test, the document 'Tantra Masseur' of GAY-TANTRA by Armin Heining is awarded. This certificate, with which the holder can actively advertise his enhanced qualifications on his website, the social media and other profiles, attests the quality of his Tantra Massages and distinguishes him from the mass of (Tantra) masseurs.
---
Course and Contents:
Regarding the tantric philosophy at GAY-TANTRA massages the whole body gets touched in different ways including all sensitive body segments. As an important source of our zest of life sensations of sensuality and pleasure are core parts of Tantra.
Segment 1: The GAY-TANTRA Erotic Massage
Theory:
Erotic GAY-TANTRA Massage: Basics and History
Preparing the Massage Place
Little Knowledge about Massage oils
Practice:
Rituals and Techniques of Beginning
Sensual Seduces
Backs and Legs Massage
Upper Body and Arms Massage
Necks and Face Massage
Segment 2: The GAY-TANTRA Genital Massage
Theory:
Genital-Massage - Basics
Genital-Massage - History
Anatomy of the sexual organs
The Chakra-Energy System
Practice:
Active Meditations
The Big Let Go
Techniques of genital touch
Discharching with pleasure
Afterglow
Segment 3: The GAY-TANTRA Tender Massage
Theory:
GAY-TANTRA Tender Massage: Basics and History
Massage place set up
Practice:
Techniques to get centered and find Inner Peace
Rituals of Beginning
Surrounding with Silence and Peace
Gentle Upper Body and Anal Massage
Necks and Face Massage
Segment 4: The GAY-TANTRA Anal Massage
Theory:
Anal-Massage - Basics
Anal-Massage - History
Careful preparations (Anal Washing, Lubricant, Hygienic)
Anatomy of the Anal Organs - The Male G-Spot
Female and Male Energies of Man
Practice:
Active Meditations
The Subtle Let Go
External Anal Massage (Pelvic Floor, Coccyx, Prostate Gland)
Internal Anal Massage (Sphincter, Inner Space, Coccyx, Prostate Gland)
Discharching with pleasure
The Inner Orgasm
Segment 5: The Tantra Masseur - Certification
Theory:
Practice:
Practice of a complete GAY-TANTRA Erotic Massage (with Genital and Anal Massage) - with intensive feedback.
Practice of a complete GAY-TANTRA Tender Massage (with Genital- and Anal Massage) - with intensive feedback.

Dates: 13.02.2019 - 20.02.2019 in Palm Springs, CA / USA
---
Preparatory and Accompanying Media: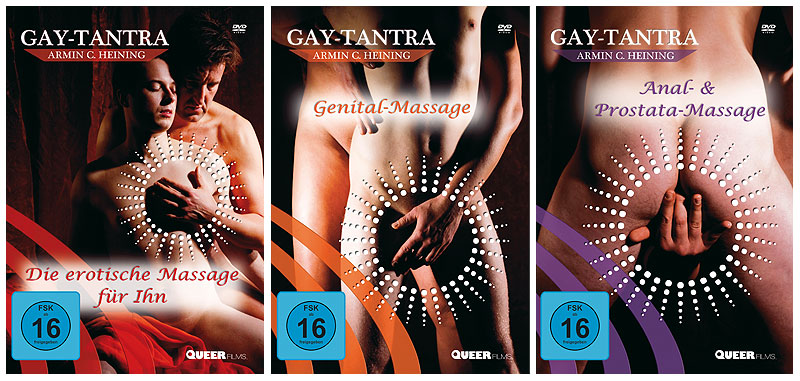 First-time participants will receive these three GAY-TANTRA massage educational films and various other study and information films (value about USD 60) after complete registration as download for free.
Beginning of the training you will receive the 'GAY-TANTRA™ Training for Tantra Masseur (certified) Program Study Guide', a comprehensive manual that immerses you in the unique GAY-TANTRA™ massages and other important related topics. It allows you to get the most out of your GAY-TANTRA™ training! The Study Guide will introduce you to and supports you on your path to immersion in the GAY-TANTRA™ massages. The 'GAY-TANTRA™ Training for Tantra Masseur (certified) Program Study Guide' (value about USD 35) is available exclusively to training participants and is not available elsewhere!
Additionally books and DVDs can be bought during the training at the spot.
---
Organizational Details
Description:
Tantric Yoga For Men Studio, 69550 Highway 111, Suite 204, Rancho Mirage, CA 92270.
The GAY-TANTRA Masseur Training takes place in Rancho Mirage, near Cathedral City in the Palm Springs and Palm Desert Area in California. The studio space is dedicated to tantric yoga and life coaching, and we are happy to be there as guests for our 4th GAY-TANTRA Masseur Training US.
Schedule:
The training begins on Wednesday, Feb 13, 2019 at 2 pm. The individual training days usually start at 7.30 am with a meditation in the morning. After breakfast, there will be a training session lasting until 1.30 pm, followed by lunch. The afternoon session will start about 3.45 pm until 7 pm. After dinner sometimes there will be an evening practice and learning session ending about 10.30 pm. The training ends on Wednesday, Feb 20, 2019 at 8 pm with an examination and certification.
Seminar language:
English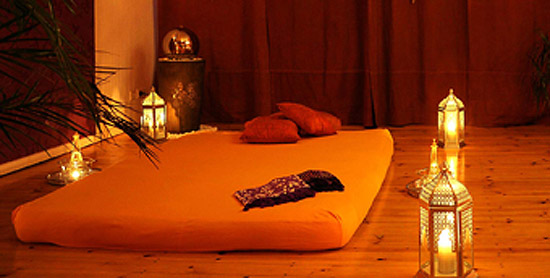 Accommodation/Meals:
You are responsible for your own accommodation.
If you live outside the Palm Springs area we recommend for best team spirit and learning to book your room at Motel 6, Rancho Mirage, which is right next the neighbor building to our studio.
Overnight accommodation with 1 Queen Bed, 2 Queen Beds, 2 Full Beds costs USD 54 per night (status 9-2017). This means: You can lower your costs through sharing your room with another participant. Motel 6 also provides a lovely hot tub, opened 24 hours. A wonderful semi-residential setting for intensive, relaxed and juicy learning!
If you live in Palm Springs and want to sleep at home, this is possible as our semi-residential training times allow this. During the day we recommend to have meals and leisure together.
Important notices:
This training is no substitution for psychotherapy, self-experience, personality training, or sexual or spiritual development! It is assumed that the participants possess a certain mental and physical durability, and are open sexually and spiritually (natural mindset towards nudity, touch, also deep sexual touch, openness towards active and quiet meditation). If necessary, talk about your participation with the educator prior to registration!
Participation fee:
The fee for the GAY-TANTRA masseur training amounts USD 1.550, payable in one amount or - on request - in two instalments (50 per cent on the date of the written enrolment; 50 per cent one month prior to the beginning). Please contact us via E-Mail! This fee covers all costs for seminar hours and materials.
First-time participants will receive three GAY-TANTRA massage educational films and various other study and information films (value about USD 60) after complete registration for free.
The following discounts are possible:
∇ (-10%) First-Minute Discount: for registrations until Dec 15, 2018.
And additionally under one of the following conditions:
» (-30%) Refresher rebate: former participants refreshing their knowledges
» (-15%) Social rebate: Students/Unemployed Persons [with ID]
» (-10%) Partner rebate: Couples - registering together
---
See here: Conditions of participation / cancellation.
---
Further developments


Job-Training Tantra-Energy Masseur


Job-Training Tantra-Ecstasy Masseur